Grocery Store Business : Grocery stores are seen from the smallest villages to the metropolitan cities. Because of this, many people set up small to big grocery stores in different parts of the city. The demand for this business never decreases, because if it is run well, a good profit can be earned per day. Any citizen of the country needs various types of items, which can be obtained from this store. Here the process of earning profit by doing grocery store business is being completely described.
Selecting a better location for grocery store business
To earn profit in this business, it is necessary for the store to be in a better location. Actually, it is a business which once established at a place, runs at the same place for a long time. Therefore, it is mandatory to select a particular place to establish this store. This requires a place where a person can easily reach. If your store is in a place where the population is high, it will take less time to expand your business. For this you can choose a place near housing societies, crowded roads, hospitals, temples etc. Keep in mind that it is better if there are no other grocery shops near the shop you are opening. Otherwise it affects the business of both.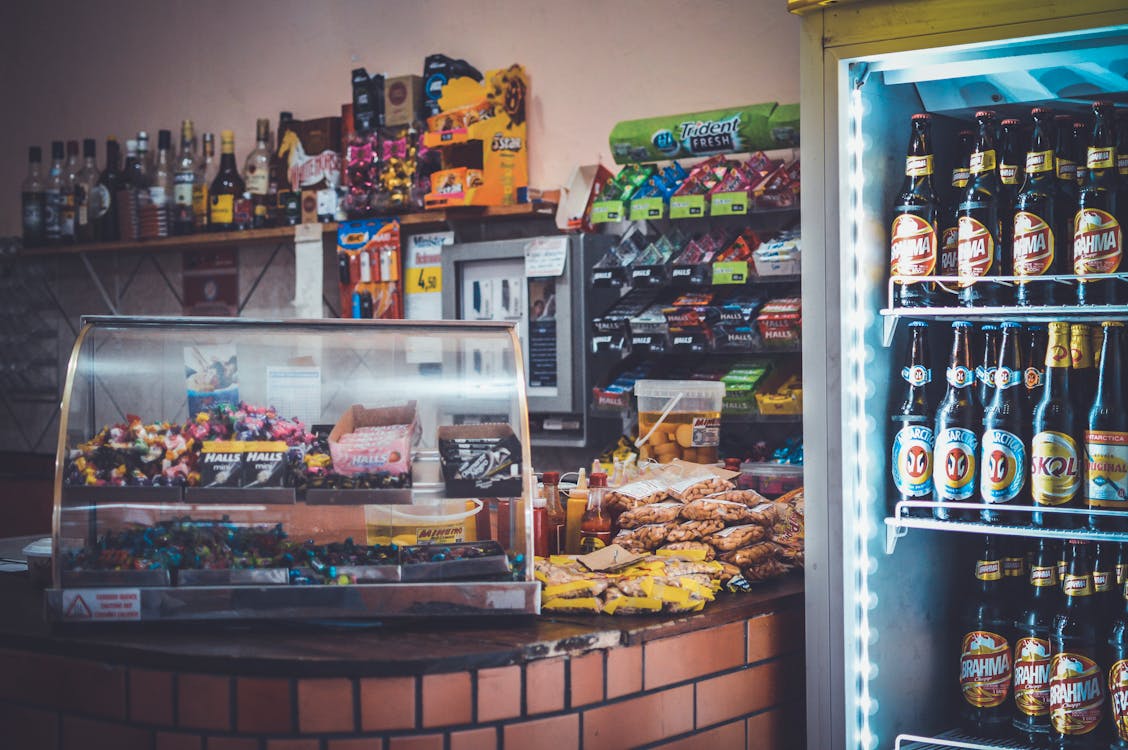 Grocery Store Business Plan
Before starting this business it is necessary to make a plan. Under this plan, you have to decide what you need in your store, what is the minimum amount required to spend on which tasks to build the store. You can decide the following things under this scheme.
While planning, you have to decide the size of the store, under this you decide how many square feet your store will be. Typically the smallest store is 200 square feet, although you can build a store up to 1000 square feet.
Keep in mind that the capital of goods in the store for the first time is around Rs 50,000. This is the minimum capital, you can start business by investing more money than this. Make sure that your shop looks full of goods.
Along with this, you also need to keep six months' capital separately in your hand.
Grocery Store Business Interior Design
You need to pay special attention to the interior of your grocery shop. You should make the interior of your shop in such a way that all the goods are visible to the customers. Also, you do not have to spend much time searching for goods while running your shop.
Contact from Suppliers and Wholesalers For Grocery Store Business
To establish this business, you need to talk to suppliers and wholesalers of various goods. For this work you need to talk to the wholesalers who are located near your shop. This also reduces transportation costs and also saves a lot of time. You can also find suppliers who can provide you with almost all the goods for your shop.
Grocery Store Business Marketing
There is a lot of need for marketing in this business. You can market your store in different ways.
You can organize sales etc. from time to time to market your store. There are many shops which organize offers during various festivals, due to which the number of their customers increases significantly. You can arrange coupons etc. for your regular customers, with the help of which you can keep benefiting them with small offers.
If you are starting this business with less money, then keep the price of your goods lower than other shops so that you can get more customers.
To retain your customers, provide services like free home delivery, ordering over phone etc. By doing this your customers can increase further.
Advertisement of Your Grocery Store Business
If you want to get more customers in less time, you need to promote. To make this business reach people, you can give ads in newspapers, or you can print pamphlets related to your store and put them in these newspapers. You can keep a good name for your shop. And name all those essential items on the board outside the shop. Which you sell. To increase the circle of your customers, you can keep milk, curd, butter, bread etc. along with groceries. You can also promote your store better by giving financial help to various organizations in your area in various programs in the name of your store.
Grocery Store Business Profit
If you run this business well, you get a very good profit. However, it may take about 6 months for you to set up your shop. At this time you need to work hard. If you are new to this business, and have started your business with a cost of Rs 1 lakh, then you can earn up to Rs 15 thousand per month by doing this business. Under this, you need to sell goods with higher margins in larger quantities, so that you can get more profit.
Estimated Margins on Various Grocery Items
Grocery Store Business : You get profit at different percentage rates on different goods, and the profit on some of these goods is described below, which is as follows:
| | |
| --- | --- |
| stuff | percentage of profit |
| soaps | A profit of 8 percent is obtained. |
| Cream | 10 percent profit |
| Toothpaste | 10 percent profit |
| Main grocery items like rice flour, sugar etc. | 15 to 20 percent profit |
| other packed goods | Get 15 to 20 percent profit |
Selection of employees for grocery store
You cannot run a store well alone, because there are many tasks involved in it. For this reason, you need a good person, who can run your store honestly even in your absence. You have to select a practical person for your store, who is polite towards the customers and does all the work with perfection.
Grocery Store Business License
If this business is registered, it increases the credibility of the customers towards the shop. You can register your store under MSSE or Udyog Aadhar. With this your store can perform much better.